This soft cardigan with front buttons is awesome gift for this Holiday season. Wearing this over your favorite high neck will add to the warmth and the comfort that is much needed every winter season. pairing this with a long skirt or a pair of denims in blue, black or white, would simply make the look very stylish. Interestingly, you can also wear it with a red colored sweater underneath to complete your Holiday Look, as red is the color embarking the beginning of the holiday season. Moreover, this becomes a perfect utility gift for the amazing and relaxing holiday season.
Black is a color of all seasons and when mingled with red, it surely becomes the perfect gift for the Holiday Season. Make a style statement in this chic dress that is short; however, perfect material for that cozy Christmas Dinner with the closed ones. Add on to a pair of Long boots and some lovely hoop earrings to complete that alluring and beautiful look that you have been waiting to create. Gifting this to your sister, girl friend or even to your mom, your shall be talked about for its wonderful appeal. The slight shine on the fabric and the division at the torso is something that shapes up the dress. Moreover, the front open idea is also a great one so you can fit in well and can wear a layer underneath to protect yourself from the winters.
If you someone who prefers comfort over anything, this knitted high neck sweater will serve as a wonderful gift for them. Beaming with joy, you will be pleased to learn how this has been the favorite wear the entire Holiday Season, irrespective of the occasion. Indeed, comfort serves the purpose when this is further accompanied by a pair of regular fit denim and shoes that are flats but still exude lots of styles. The color of this sweater is the most acquired this season by girls, so follow the trend, but set one too with this wholistic look of denim and shoes!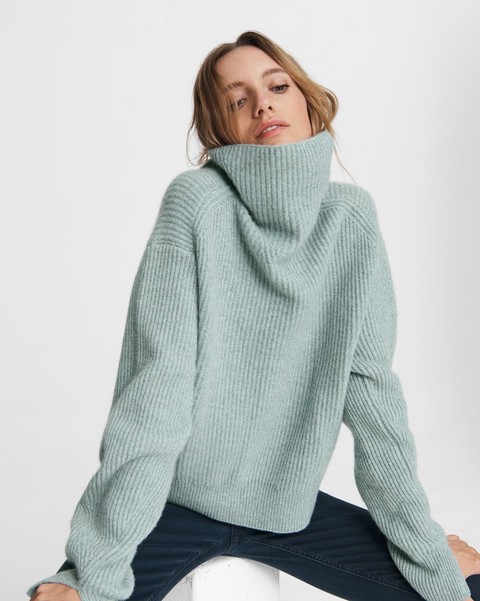 What a fantastic dress this would make for your girl waiting for you in this Holiday Season. This will enthrall her as not just the color but the silhouette to is enigmatic and absolutely sensuous. With the balloon sleeves made from net, and the bow adorning the front giving this an amazing look. The sleeves with ruches on the joint allows you to work without wetting the sleeves. So in full swing, you can get ready and continue with the chores, if needed. The fabric is absolutely wonderful that fits your body like a co-ord set. With this Holiday Season, a good dress can certainly bring immense happiness of feeling sustained and able to enjoy the graceful Holiday Season.